'My Tummy Diary' is Now Available to Pre-order!
Why pre-order?
Due to working on my own, having limited space and self-funding, I'll only be ordering a limited quantity of diaries in the early stages. By pre-ordering the 'My Tummy Diary' gut-health diary you'll avoid missing out so not only will you be one of the first to receive one, but you'll also get your diary at an exclusive first pre-order discounted price. On top of this you'll also be supporting me and You've Gut This by helping make it possible to print the diaries, so a super big thank you from the bottom of my heart!
When will 'My Tummy Diary' arrive?
Pre-sale stage 1 (orders placed 31st May): Our stock is due to arrive at the end of June and I'll be working my little bum off to get them out to you as soon as possible!
Pre-sale stage 2 (orders places 3rd June or after): You can expect your diaries to arrive towards the end of July. I'll be working as quick as I can and posting out in order or order dat.
I'm going to be posting and packaging everything myself so your order will be sent with a whole lot of love. I'll be working my way through in order of order date and keeping you up to date with everything via email. You can follow me over at @youvegutthis and @thetummydiaries for exciting live updates!
What happens if I don't order now?
We will only be offering a very limited quantity for our first batch and with over 1,500 of you lovely lot already signed up to hear about the launch, we're expecting to sell out fast. But don't worry, if we do, you'll still be able to order again in the future - sign up to our newsletter to keep up to date when the full orders go live.
Hey, I have some more questions!
No problem at all! Head over to our FAQ page to find the answers to all your burning questions, along with our customer service email.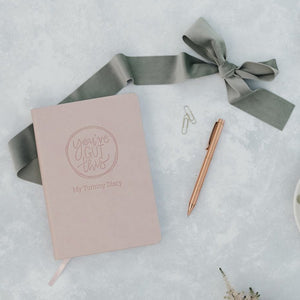 My Tummy Diary - Gut Health Diary
Sale price Price $32.21 Regular price $32.21 Unit price / per
Tax included.